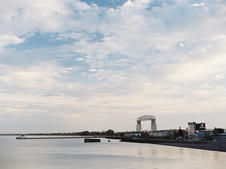 Park Point and the Lift Bridge, late afternoon, 1 October 2002

Kodak Portra 160NC
Contax 645, 80mm, f4.0 1/60 sec
Copyright © 2002 Daniel L. Johnson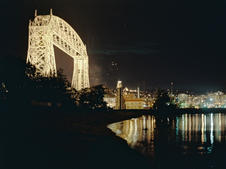 Duluth Lift Bridge, night, 1 October 2002

Kodak Portra 160NC
Contax 645, 80mm, f2.0, 2:08
Copyright © 2002 Daniel L. Johnson

Corps of Engineers Building, night, Duluth, MN, from lift bridge deck. 1 October 2002

Kodak Portra 160NC
Contax 645, 80mm, f4.0 1:00
Copyright © 2002 Daniel L. Johnson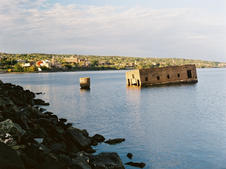 The concrete crib in the lake, foreground is a monument to optimistic capitalism. It was built at the turn of the century to transfer gravel fill from barges to the land, along a conveyer that rested upon the concrete cylinder you see here. The plan was to be Chief Gravel and Fill Purveyor to the Duluth Harbor, but the politics were already going in another direction, leaving out our Brave Optimist. The channel was cut through near here, not quite where he expected, in a great hurry, with the purpose of ending Wisconsin's armlock on access to Lake Superior through the mouth of the St. Louis River about 8 miles east of here. The Minnesota folks had nearly completed the channel when the Superior folks got a court injunction stopping construction. But the Minnesota folks caused the courier carrying the papers to be delayed slightly on his journey, and worked around the clock for a couple of days to finish the channel, which was open by the time the injunction was delivered. Superior gave up, and the rest, as they say, is history. The gravel operation lasted about 3 years, and the concrete structures have been mystifying tourists ever since.

1 October 2002
Kodak Portra 400NC
Contax 645, 80mm, f11.0, 1/90 sec
Copyright © 2002 Daniel L. Johnson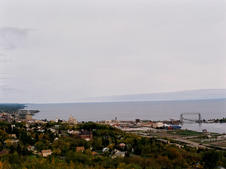 Duluth, 2 October 2002

Kodak Portra 400NC
Contax 645, 80mm, f16.0 1/125sec
Copyright © 2002 Daniel L. Johnson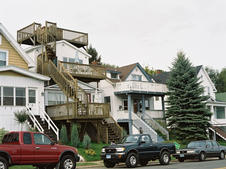 A real deck, along the Skyline Drive near Enger Park, Duluth, MN

Kodak Portra 160NC
Contax 645, 80mm, f 5.6 1/125 sec
2 October 2002
Copyright © 2002 Daniel L. Johnson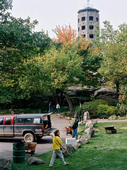 A Colorado tourist (yellow), a gardener (green), and walkers in Enger Park, beneath venerable Enger Tower, built in memory of (and with the bequest of) Mr. Enger, who liked to sit up here on the hilltop and gaze at the sky and down at the lake, city, and harbor.

2 October 2002, Kodak Portra 400NC
Contax 645, 80mm, f8.0 1/180 sec
Copyright © 2002 Daniel L. Johnson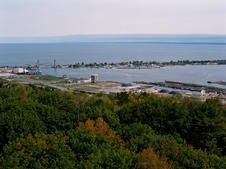 Duluth Harbor, Park Point, and the Lift Bridge, 2 October 2002

Kodak Portra 400NC
Contax 645, 80mm, f11.0 1/250 sec

Copyright © 2002 Daniel L. Johnson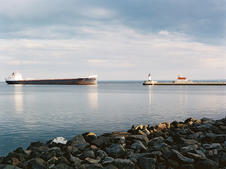 Yet one more ore ship enters the channel into Duluth Harbor. This is an endless source of entertainment for tourists, who are easily impressed. The little white sliver just ahead of the ship's bow is a kayak... OK, so the ship *is* big.

1 October 2002
Kodak Portra 400NC
Contax 645, 80mm, f16.0 1/125sec
Copyright © 2002 Daniel L. Johnson

---
The file names are my file numbers, and are not directly related to image contents. The subject and technical data are contained within each jpeg file itself, as a comment readable by the Gimp or Photoshop, and the comment is provided to the right of each thumbnail image below.
All photographs are copyright © Daniel L. Johnson; all rights reserved. Photos may be copied and disseminated only without charge, and with attribution.
I'm not in the photography business, but if you'd like a print of any, these photos in real life are all 6x4.5 cm color negatives (unless noted otherwise), and we can arrange this through Photos, Inc., of Minneapolis. I send them my negative and you send them your charge card number and address, and in a week or two you'll get a print. email me at drdan AT wwt.net if you wish to pursue this.
---
Except as explicitly noted otherwise, all images Copyright © 2002 Daniel L. Johnson.
All rights reserved.