This page is your entry into a collection of images of Prague that I took July 8-14, 2004. These images are loosely organized into directories and subdirectories by location and theme. I have listed this directory structure at the bottom of this page.

In any page just click on the thumbnail image to see a full-sized image.

Each picture began life as an 8 megapixel digital photo. These have been re-sized and compressed to .8 to 1.4 megabyte jpeg files to reduce bandwidth..

Here's what each directory will look like when you access it via the file index.html:

---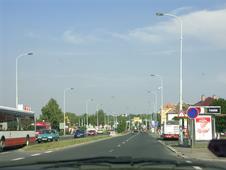 The suburban expressway from the airport is stylistically like any other place, including the golden arches and monolithic street lamps.

July 8, 2004; 4:30 pm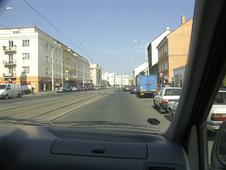 This is the view of Prague that the tourist gets on the way from the airport to the old, interesting part. The Czechs quit putting up nice buildings nearly a hundred years ago,so the new parts of town look as stark as anywhere.

July 8, 2004; 5:15 pm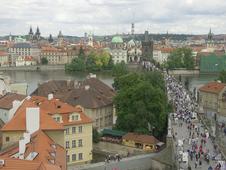 The Charles Bridge over the Vltava River seems to be the heart of Tourist Prague.
Across it to the east are the Jewish quarter, the old town, and about a 20-minutes walk into the distance, Wenceslas "Square" (really a boulevard), Vaclavske namesti.
Behind us is the Mala Strana district and above it the Hradcany district on which the giant castle sits (the seat of Czech government and, I presume, most of its federal bureaucracy) and St. Vitus cathedral. Nearly everything old and wonderful in Prague is within about a half-hour walk of this spot.

July 9, 2004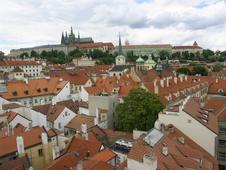 Mala Strana district, foreground, Hradcany district with castle and St. Vitus cathedral atop the hill. Looking from northwest from the west tower of the Charles Bridge, July 9, 2004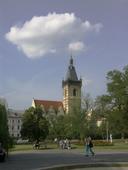 A tower in the sun, late afternoon, Prague. I have forgotten exactly where this is...
July 14, 2004, 5:30pm


---
Except as explicitly noted otherwise, all images Copyright © 2004 Daniel L. Johnson, Menomonie, Wisconsin.
All rights reserved.